Hello, friends,
From Wayne Dyer to Eckhart Tolle to Simon Sinek to Brené Brown and more, I feel like I read every self-help book I could get my hands for about decade. Maybe you, yourself, are a Rachel Hollis, Gabby Bernstein or Steven Covey follower. Who is your most inspiring self-help "guru"?
The first few years, things were really clicking for me. The messages about the power of positive self-talk, the present moment and gratitude were really resonating with me. I'd fervently carry out all the self-help suggestions. Wayne Dyer told me that there was a spiritual solution to every problem, Eckhart Tolle told me that everything was in harmony if I could only sustain awareness in the present moment, and Brené Brown taught me to embrace vulnerability in the messy middle, that we have to get through that uncomfortable, mucky place to experience truly intimate and meaningful relationships.
These were incredible teachings, some of them opened my mind to ideas that I'd never, in my life, been exposed to (or perhaps wasn't ready to hear). The inspiration that rose out of their words lit me up from the inside out, and I am so grateful.
I still connect to Brené Brown and Simon Sinek through podcasts; they've each been a lighthouse during the real life 2020 stuff.
You know what I eventually discovered in the self-help genre (and even in some spiritual reads)? There are a billion and one ways to express the same ideas and ideals. I suppose that this is because there are a billion people out there on their own unique journey on this planet. They have each travelled their own road toward contentment and peace in their personal lives.
Friends, a few years ago, I stopped reading this genre. At some point, it became clear that there was no "secret" to living a contented and fulfilled life. For some time, it was useful and inspiring to read these books.
Eventually, it struck me that I wasn't broken, that doing this thing or that thing wouldn't add up to bliss. If I'm being 100% real, I need to let go of my desire to be this that or the other thing self-help books told me I should be. I needed to take back that time and nurture the parts of myself that felt lonely, self-conscious, unworthy and sometimes even unsafe. These parts that told me that I was not whole or complete (which, let's be honest, led me to the self-help genre in the first place).
I carried the treasures from some of these teachers with me and I released the rest. I earnestly sought inner practices and embodied practices to integrate the scattered parts of myself. Sometimes, it has required me to be present to my pain. Sometimes, it's brought up strong and unpleasant emotions. Sometimes, it's created such a spaciousness within that I've felt an intimate connection to the divine. Sometimes, I've felt a blossoming of tenderness in my heart. The fruits of our yoga, mindfulness and spiritual practices like reiki surface as the layers hiding our light are peeled back, bit by bit by bit.
Gradually, I've come to a place where I feel in my bones that I am whole and complete, just the way I am. I'm not perfect, but I am whole and complete. I am not complacent, but I am whole and complete. I have an acceptance and even a tenderness for where I am right now on my journey. I see what I have come through and anticipate where I may be growing, but I am contented with who I am, in my skin, here and now.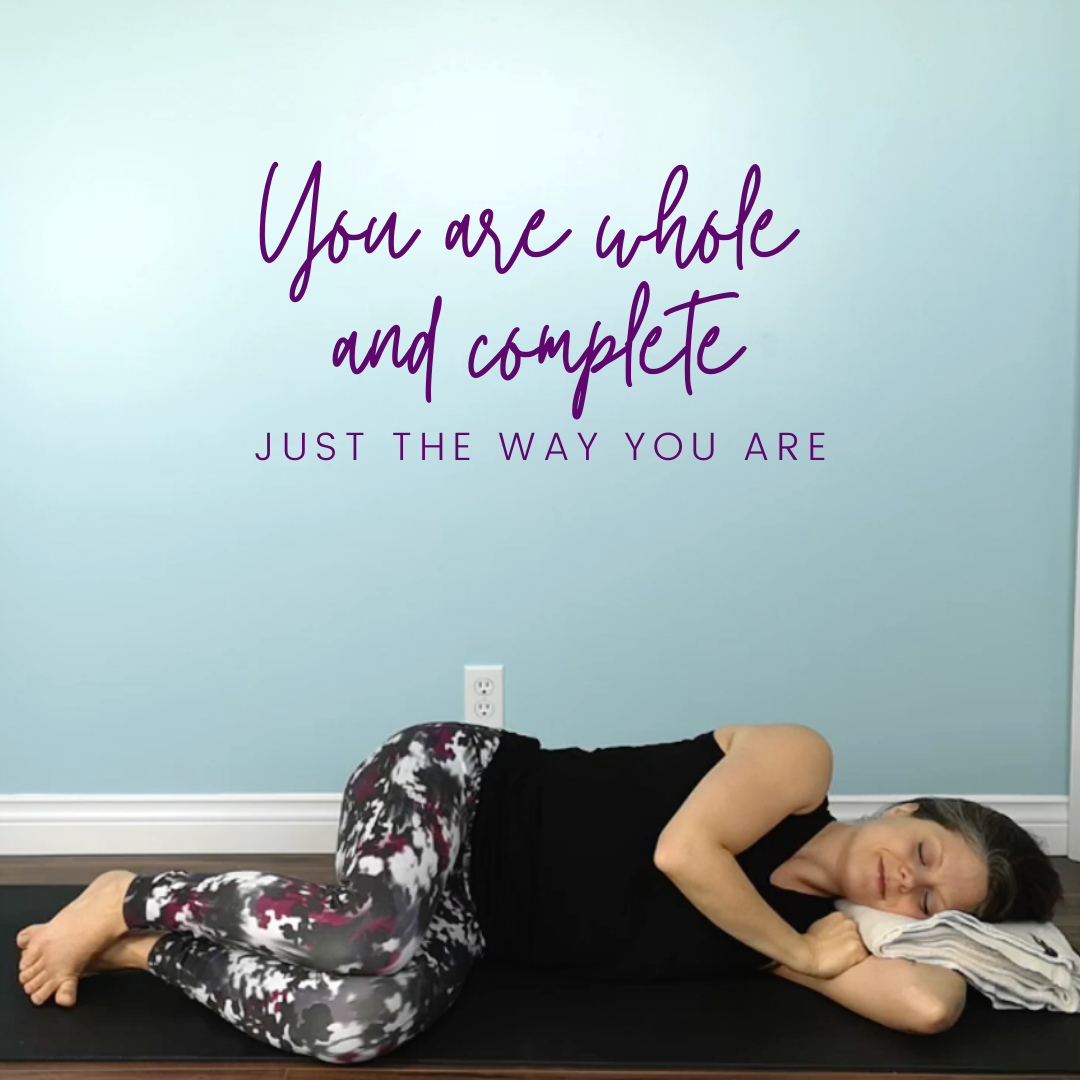 On-Demand Monthly Membership
(15 classes, 15 minutes or less). Dec. 1-31
December Metta Meditation Mornings (featuring 7 local teachers)
Tuesdays and Thursdays from Dec. 1-22 @ 6:30am on Zoom
This is a free offering, thanks to the time and talent of our presenting teachers.
Restorative Yoga
Wednesday, Dec. 2 @ 10:30am
Sunday, Dec. 6 @ 1:30pm
Wednesday, Dec. 16 @ 10:30am
Yoga Nidrā
Thursday, Dec. 10 @ 6:30pm
Sunday, Dec. 20 @ 6:30pm
Balanced. Stable. Strong.
Wednesday, Dec. 9 @ 10:30am
Click here to register for any of our offerings.
Take good care of you.
Warmly,
Kelly
kellyiamgreen@gmail.com
www.kellygreen.ca